Severe weather alerts protect against damages
Insurance companies optimize their combined ratio. With UBIMET's early severe weather alerts, insurance companies can help their customers prevent damages or at least keep them to the absolute minimum.
Severe weather alerts as a service
Severe weather alerts are sent out via SMS, e-mail or push notification between 48 hours to 15 minutes prior to the arrival of a severe weather event. The alerts detail significant weather events such as thunderstorms, gales, heavy rain, freezing rain or snow. The alerts also cover hurricanes and tropical cyclones in the USA and Australia.
Insurance customers receive individual, early and reliable alerts, giving them the opportunity to take precautionary measures in a timely manner.
How do insurance companies benefit from the severe weather alerts?
The severe weather alerts service benefits insurance companies and insurance customers alike:
Recipients of the alert have the opportunity to immediately implement safety measures. Surveys show that customers close their windows, secure garden furniture and park vehicles in the garage, among other actions. This helps to minimize damages or, ideally, avoid them entirely.
Your company is shown as the sender of the severe weather alert. This additional contact is positively perceived by the insured and strengthens customer loyalty. In addition, insurance companies providing this service are perceived by their customers as innovative and customer-oriented. Moreover, this service contributes to keeping customer data current.
Precise alerts and highly developed transmission
The highest level of reliability regarding severe weather alerts is not only ensured by a progressive, multi-step process, but also by means of location-specific weather analysis and alerts generated with modern, high end technology.
The transmission process was developed in conjunction with the Fraunhofer Institute and has been ISO certified. This ensures that thousands of severe weather alerts reach their recipients very quickly and in a timely manner.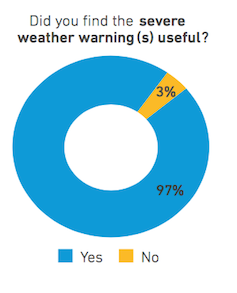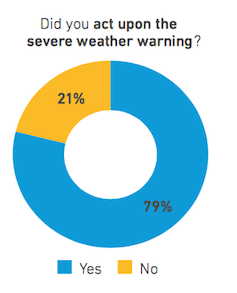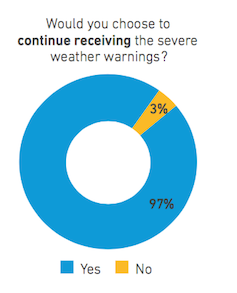 Your benefits from the severe weather alerts:
Prevention and reduction of damage to property and persons
Optimization of the combined ratio
Strengthened customer loyalty
Supports the image as a service-oriented insurance company
Increased potential for cross- and up-selling
Updating of customer data
Recommendation by the customer to family & friends