A SUCCESS STORY: FROM A START UP TO A GLOBAL PLAYER
Born out of pure enthusiasm for meteorology, UBIMET was founded in 2004 as the start-up by Michael Fassnauer & Manfred Spatzierer, and can now look back on an exciting success story. As true then as it still is today, UBIMET stands for high-precision meteorology and the highest standards in quality.
UBIMET 2006 – 2010
2010
As the first weather service in Austria, UBIMET received the ISO certification (EN ISO 9001: 2008) for its storm warnings.
www.wetter.tv, the UBIMET Weather website for German-speaking countries went live.
2009
UBIMET expanded its activities to Hungary, Poland and the Czech Republic.
2008
In the spring of 2008 UBIMET was revitalized and with 100% ownership by the founders Michael Fassnauer and Manfred Spatzierer they continued the success story internationally and facilitated expansion.
2007
Awarded second place at the WINNING Young Entrepreneurs Competition 2007 – Michael Fassnauer was selected as one of the top 3 young Austrian entrepreneurs of 2007.
2006
The company was awarded third place in the category "The most innovative start-up companies" at the Viennovation Awards, 2006, and distinguished for the INDUS project.
The growth rate and investments in our own research and development department paid off and were honoured with the following prizes: Safe and Secure 2006, Mercur 2006
2005
The Austrian Federal Railways ÖBB received weather information from UBIMET in order to plan their resources better and to increase the safety and efficiency of railway operations.
UBIMET 2004
Michael Fassnauer and the meteorologist Manfred Spatzierer found the company.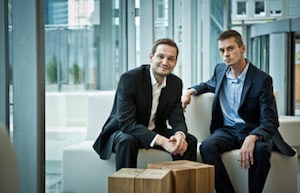 UNIQA commissioned UBIMET as a service provider for severe weather alerts – As the 1st insurance company, UNIQA offers severe weather warnings via SMS and e-mail to its private customers.
Formation of the Severe Weather Center Austria (Unwetterzentrale Österreich; UWZ.at) – the UWZ offers severe weather warnings around the clock. For the first time, location-specific severe weather alerts down to the postal code level were offered to the Austrian market.
Largest private weather service in Austria – Only a few months after its foundation, UBIMET supplied renowned customers such as the dpa (German Press Agency) with daily weather information.