Adding value to mining operations
Wildly fluctuating weather events affect all outdoor activities, including mining. Sector site and operations managers have long learnt that lightning, heavy rain, flooding, winds and high temperatures can threaten personnel, equipment and scheduled activities. Conversely, prolonged good weather often spurs substantially higher productivity and thus provides an excellent incentive to scale up operations.
"Extreme weather events in recent years have highlighted the costs for Australian mining operations of being underprepared for adapting to climate risk," notes the National Climate Change Adaptation Research Facility (NCCARF) in a recent report targeting mining industry professionals. The paper cites the 2010/2011 floods in Australia, which closed or restricted production of about 40 out of northeastern Australia's 50 coal mines, costing more than $2 billion in lost production, as an example of the risks of being under prepared.
Effective resources deployment
One of the most obvious and under-leveraged tools available to site managers to optimise activities is accurate weather forecasting. Even today in 2017 too many mining sector personnel rely on visual analysis to assess the weather. Some site managers' main forecasting technique is to literally walk out on the balcony, look at the sky and stick their proverbial fingers in the air, to gauge the wind. Others rely on a broad range, publicly accessible weather reports. Such conventional methodology can be charitably characterised as sub-optimal at best. Often it can be downright misleading. Access and use of consistent, methodical and reliable weather reports provide far better criteria to assess when to demobilise and remobilise operations and when to re-allocate resources away from more dangerous and weather-affected site areas. For example information regarding the location and movement of thunderstorms can reduce downtime due to the ability it provides site managers to more efficiently control operations.
UBIMET: adding value to mine operations
One of the most innovative weather information players is UBIMET, which is a "world-leader in the provision of meteorology services", such as severe weather warnings and lightning detection. The Vienna based Austrian company, which was founded in 2004, has since expanded to become a global business. In 2011, the company set up a Melbourne branch to provide alternative weather services to Australian construction, mining, transport, and insurance industries, as well as sporting and outdoor events. Since its founding, UBIMET has consistently set new standards in global meteorology through strategies such as the development of its proprietary forecast models and algorithms. This technology delivers individually tailored, highly accurate and real-time weather forecasts. These advances have attracted the attention of high profile investors and clients. For example, in 2012, Red Bull, makers of the well-known energy drink, took a stake in UBIMET and in 2014 the FIA (Fédération Internationale de l'Automobile) signed a long-term contract with the company to provide weather services for the Formula One World Championship.
Our goal is to help you make informed and accurate weather decisions to improve the productivity of your mining project. Over the past 10 years we have developed a number of products and services to assist with: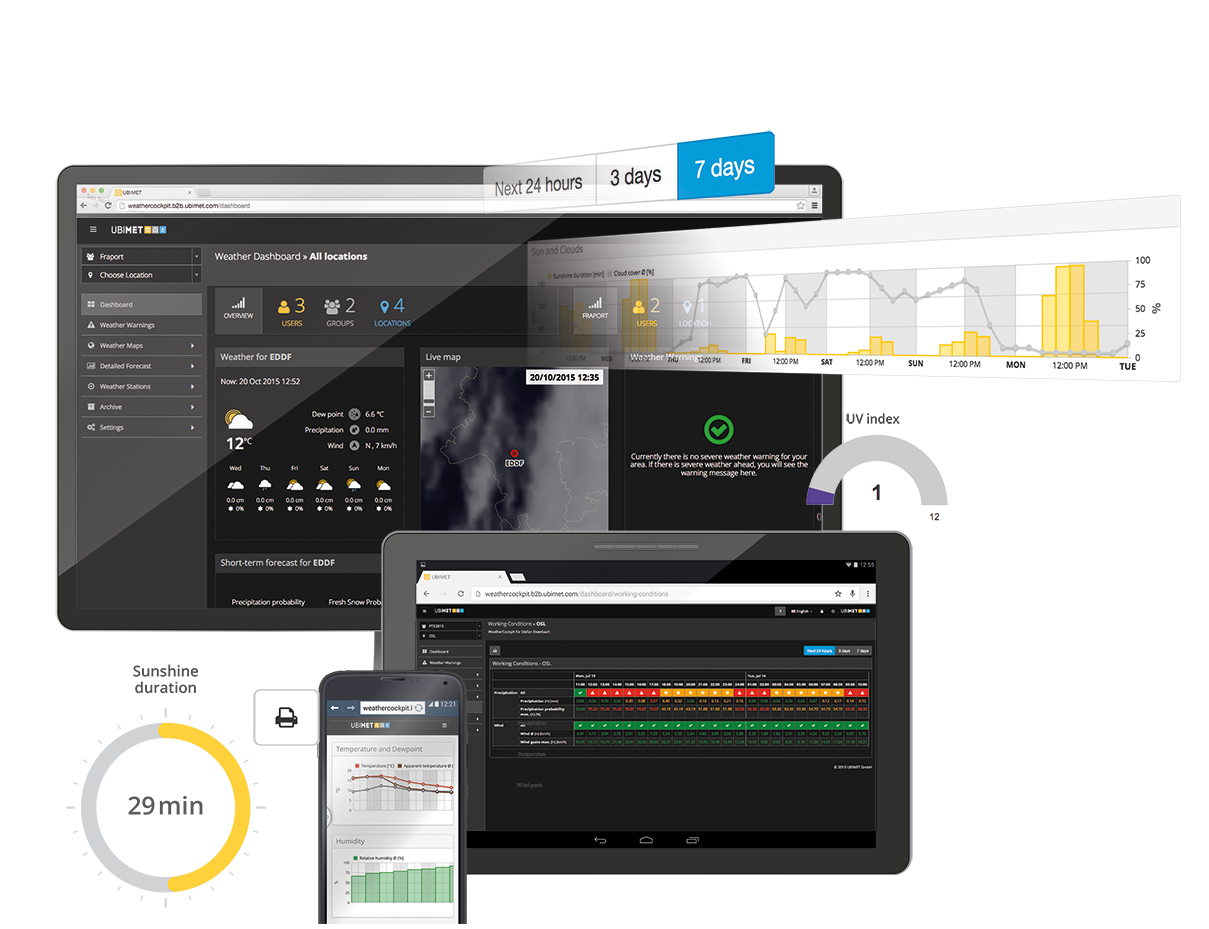 Reliable weather forecasting tools can help
The clear implication is that optimally meshing mine operations to account for shifting weather patterns, can substantially improve sector productivity. This provides operators with a substantial opportunity to boost operating margins, during times when the industry is beset by sluggish production, weak exploration and lagging profits. As a result, the timing is ripe for mining companies to adopt the latest strategies and technologies needed to optimise the impact weather can have on their operations.
Custom solutions
UBIMET's services to mining players include customer access to meteorologists 24 hours a day, seven days a week, as well as access to the company's Weather Cockpit, which provides weather information through an online portal. UBIMET owns and operates its own proprietary lightning detection system powered by nowcast. The system with patented 3-D locating consists of sensors measuring the lightning, an extensive network of these sensors and a sophisticated algorithm that calculates the exact location of the lightning.
UBIMET determines which parameters will have the most significant impact on the client's site operations and how best they can support that client. The Weather Cockpit thus provides details of site-specific conditions, as well as weather warnings specifically tailored to each location and its associated topography.
UBIMET's size enables it to draw on a wide variety of information sources. These include access to advanced satellites, weather radar, weather buoy and lightning data which enable real-time reporting. In addition, information is drawn from over 28,000 weather stations worldwide.
Effectively streamlining operations to mesh with local weather patterns won't solve all of the mining industry's issues. However, they are a cost-effective strategy to boost productivity that producers cannot afford to ignore in today's tough, competitive environment.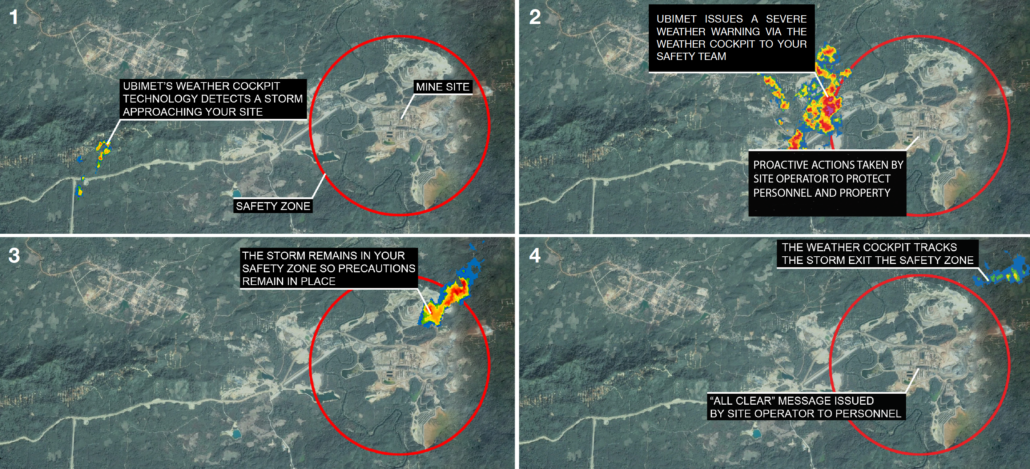 1
UBIMET's Weather Cockpit technology detects a storm approaching your site
2
UBIMET issues a severe weather warning via the Weather Cockpit to your safety team
3
Proactive actions taken by site operator to protect personnel and property
4
The storm remains in your safety zone so precautions remain in place
5
The weather cockpit tracks the storm exiting the safety zone
6
"All clear" message issued by site operator to personnel
Read about UBIMET mining solutions in the Press:
References from the mining sector